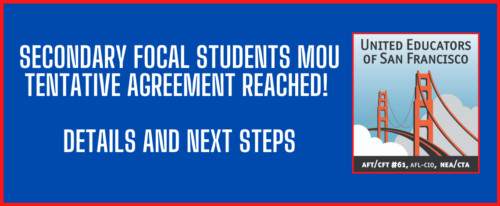 Good news! On April 12, UESF and SFUSD reached an agreement on a Secondary Students Focal Population Return to In-Person Instruction Memorandum of Understanding (MOU) Tentative Agreement. Focal students, whom we will welcome back to in-person instruction on April 26, are defined as 6-12 grade students who are homeless youth; foster youth; reside in public housing; have demonstrated limited engagement with online learning; enrolled in a Newcomer Program. 
On April 13, we reviewed the final document to check for any typos or omissions of agreed-upon language. Since we did find a couple of errors, it was important to take the time to do the careful proofreading. You can review the agreement here:  MOU Secondary Focal Student FINAL TA 4.12.21
Under the agreement, focal students will return to school in one of two different models:
"Self-contained" refers to the instructional model for classes in which only Focal Students are already clustered by learning needs or pedagogical approach, such as Continuation, County and Newcomer classes. In this model, teachers of record will be teaching in person, and will interact with no more than two stable groups of students per day, and no more than four stable groups per week.
"Blended" model refers to the instructional model for classes in which only Focal Students will remain enrolled in most or all of their remote classes while accessing in-person support at their home school. Students will continue to receive remote instruction from their teacher(s) of record and in-person support from two educators in the room with them. (This is similar to the "community hub" model.)
The in-person support educators in the classroom will be UESF members. There are safeguards in place so that educators who have to continue with the responsibilities of their current job shall not be expected to do two full-time jobs, their own and that of an in-person support provider. 
Paraeducators who are in-person support providers will receive the day-to-day substitute pay rate, or their current rate of pay, whichever is greater. (This is as much as $80/day more for many paras.)
Teacher workday: 240 minutes of live instruction, 60 minutes of distance support, and 120 minutes of prep time daily.
Students will attend classes at their home school, 5 days a week in High School and 4 days a week in Middle School, mirroring the distance learning bell schedule.
All of the provisions of the Health and Safety Standards MOU apply. See Health and Safety MOU .
While we appreciate the school district's goal to give everyone a two-week notice about returning to school buildings, we understand that the over-noticing has created a lot of confusion about whether or not you will be returning to in-person instruction.   Please check in directly with your UBC about what the plan is for your specific site.  
Much of the Secondary Focal Students MOU is very similar to the PreK-5th Grade In-Person/Hybrid-Distance Learning MOU [ PreK-5 In-Person MOU ] that our membership approved in the middle of March, including:
– Accommodations
– Face Coverings and Personal Protective Equipment
– Physical distancing on school grounds
– Physical distancing in classrooms 
– Training that must be provided
– Language regarding Psychologists, Counselors, Social Workers, Nurses, Teachers and Paraeducators on Special Assignment, Teacher Librarians, Behavior Analysts, and Itinerant Unit Members
– Unit Members Assigned COVID-19 Duties
– Unit members under quarantine
Secondary Focal Students Tentative Agreement Voting Instructions
Please use this link to cast your vote. Voting will be live until 6pm on Wednesday, April 21. The results of the vote will be shared at the UESF General Assembly meeting. Below you will find additional information to help inform your vote.