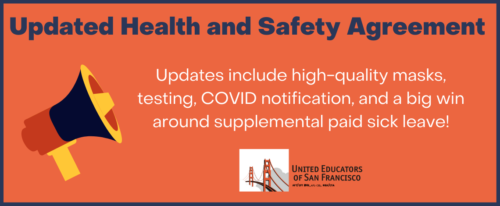 The Unions of SFUSD have signed a TA with SFUSD updating the Health & Safety MOU that includes the following. The biggest win is supplemental sick leave!  
High-quality masks

Testing

Supplemental Paid Sick Leave

COVID Notification 
The latest agreement between the unions of SFUSD and the district on the Health & Safety MOU can be found HERE. Among other items, the agreement requires the district to make sufficient numbers of Kn95 masks available at each worksite during fire season through December 2021. Parties will meet and confer on the issue of the Kn95 supply in January 2022. It also allows for weekly testing for unvaccinated employees and testing for students and staff who are symptomatic or close contact through July 31, 2022, and language for daily notification of COVID-19 cases to the unions. The notification is required to include specific information. The biggest win is supplemental paid sick leave retroactive to Sept. 30 and through Dec. 20, 2021, for three instances:
Employee caring for a family member in quarantine or isolation

Caring for a child whose care or school is closed/unavailable due to COVID

 An employee is subject to quarantine or isolation due to COVID 19
The agreement requires a meet and confer on the issue of sick leave to take place in January.