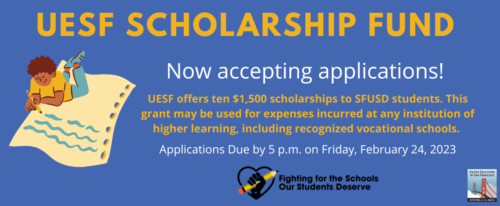 United Educators of San Francisco (UESF) is committed to maintaining quality, integrated public education through a program of lifelong learning. UESF believes every person deserves the opportunity to gain self-respect and a sense of the dignity of labor. To promote these goals, UESF has established a scholarship in the amount of $1,500 to be awarded to ten students in the spring semester of 2023. This grant may be used for expenses incurred at any institution of higher learning, including recognized vocational schools. 
Scholarship is not the prime factor in the selection process. To be eligible, a student must have a grade-point average between 2.2 – 2.5 or above for all work completed in grades 9 through 12. The major instrument in the selection process is a written composition of 250-500 words. All entrants are expected to describe: 
 Their goals after high school, and how these goals relate to the principles of UESF and labor. 
 Their activities, which demonstrate a sense of responsibility within the community and how these activities relate to their goals. 
 Their accomplishments or participation in school, youth & community affairs, or work experience. 
The Selection Process: 
1. All 12th graders in the San Francisco Unified School District are eligible to apply. 
2. Applications must be received by 5:00pm on Friday, February 24, 2023 to one of the following: 
Email: Bracha Israel at bisrael@uesf.org 
Subject Line: UESF Educational Fund Scholarship 
– or – 
United Educators of San Francisco 
Attn: UESF Educational Fund Scholarship 
2310 Mason Street, 2nd FL 
San Francisco, CA 94133-1800 
3. Each composition must be accompanied by this application (or a copy) showing the student's name, home address, phone number, school, and grade-point average. The information on the application must be verified by the signature of a counselor at the school or an email from the counselor. The application should be attached to the essay as a cover sheet, both can be emailed as pdf attachments. 
4. Warning: To guarantee objectivity in judging, the student's name and school must appear only on the UESF Educational Fund Scholarship application. Essays must not contain school clubs, team names, or any other identifying information as to the applicant or school's name in the text. Such identification will make the application invalid. 
5. The UESF Educational Fund Scholarship applications will be reviewed and awarded by UESF's scholarship committee. 
6. Winners will be announced by the 1st week in March of 2023.