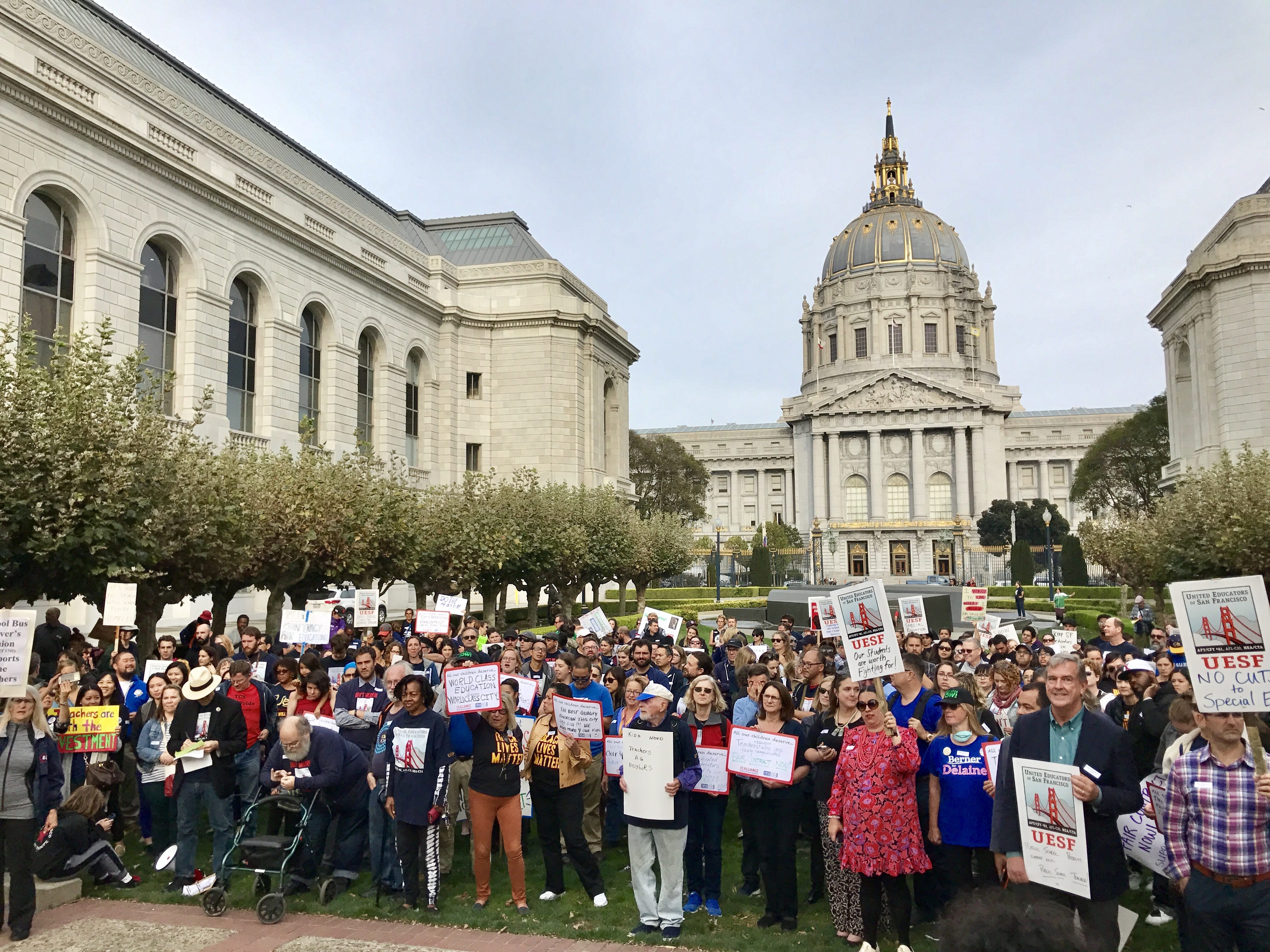 On Tuesday, October 10, over 700 members of the United Educators of San Francisco rallied boisterously in front of SFUSD's District Office to demand a fair contract for the educators who work most closely with San Francisco's children on a daily basis.
UESF members, alongside community allies and members of other unions serving San Francisco demonstrated on Franklin Street for nearly two hours. The enormous crowd filled both sides of the street with spillover that occupied the left lane of Franklin between Fulton and McAllister.
Lita Blanc, President of UESF said, "we have been bargaining for some time and there hasn't been meaningful movement from the District on compensation. In fact, their last proposal is a take-back proposal. It's time for SFUSD to settle a fair contract with us."
The high-energy demonstration, which drew constant honks of support from drivers passing by, did not conclude outside the district office. Over 200 members and supporters marched into the board chamber and continued chanting, "they say take back, we say fight back," and "treat our children with love and care, we want a contract just and fair," until the board meeting began.
During public comments, over 30 speakers took to the lectern and called on the Board to show they value the educators in the district. Many of the speakers shared painful, personal experiences of hardships and struggles with housing and affordability due to the lack of a livable wage pushing them out of the school district and out of the city.
Nearly all of the speakers, including members from community organizations, told the Board with passion and resolve, they would strike or support an educator strike.
To view our speakers' addressing the Board, visit our Facebook page (www.facebook.com/UESF61) and watch all the comments as they were delivered LIVE on Tuesday night.  Click on any of the videos of the speakers and on the bottom of the page, clips of the other speakers will be queued up and ready to be viewed.
We also have fantastic photos from the rally uploaded to our FB page.  Please take some time and view them.