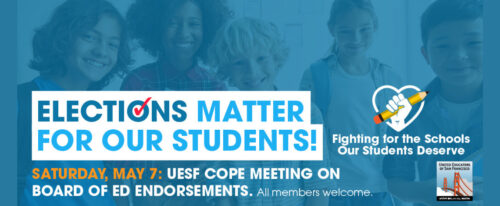 UESF COPE MEMBERSHIP MEETING
Saturday, May 7th @ 11:00 AM
Buena Vista Horace Mann
RSVP here
Join the COPE Membership meeting to interview of candidates for San Francisco Board of Education, and to make a recommendation on who UESF should endorse for the November General Election.
In November, San Francisco voters will elect three Board of Eduction commissioners. Your participation in the school board elections matter! The Board of Education makes policy decisions that ultimately impact what happens in the classroom, and the quality education we provide to our students.
We seek to endorse three commissioners that are pro-public education, pro-union, and who will fight with UESF for the schools our students deserve! Be part of the endorsement process:
When: Saturday, May 7th
Time: 11:00 AM
Where: Buena Vista Horace Mann
The meeting is open to all UESF members but only COPE members may vote for the endorsement recommendation. To attend the COPE Membership Meeting you may RSVP here. For more information and to join COPE, contact Anabel Ibáñez at aibanez@uesf.org or 415-370-2585.