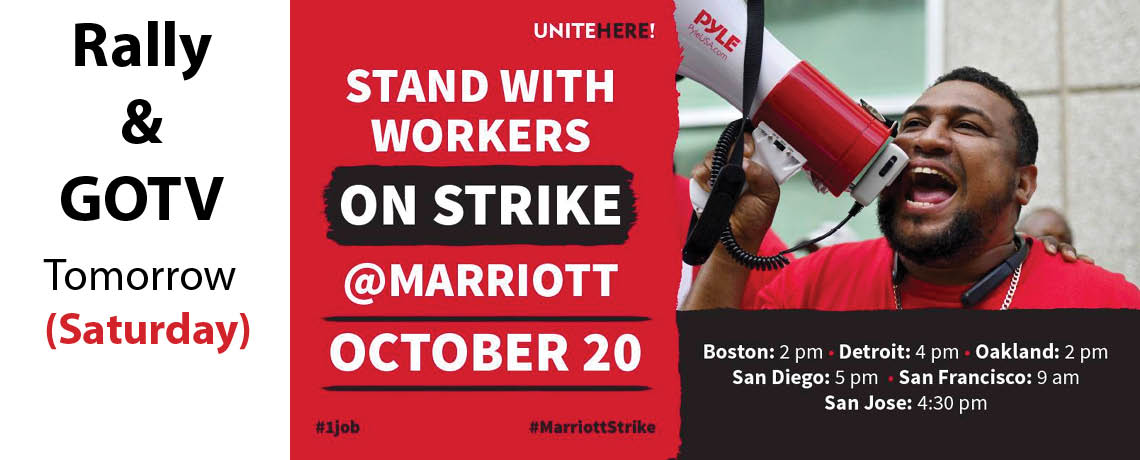 Join UniteHere members on Saturday for the biggest national rally in their fight for fair wages and working conditions.
Show Your Support for UniteHere Workers
&
Support UESF's GOTV Efforts
OCTOBER 20, 2018 (SATURDAY)
Marriott workers at seven hotels in San Francisco went on strike on Thursday, October 4. Now there are 7,700 Marriott workers on strike in eight cities across the U.S.—and more cities may join. Let's support UniteHere workers who are taking on the biggest and richest hotel company in the world in every striking city on the same day.
9:00 AM  – UniteHere Local 2 Rally
Yerba Buena Lane "UNITE HERE PLAZA"
(Market Street between 3rd and 4th Street, San Francisco)
Directly After the Rally –  Get Out the Vote
(Two choices)
GOTV Option 1
United Nations Plaza – 355 McAllister Street, San Francisco
Meet at Noon to be dispatched  
Participate in get out the vote efforts for Matt Haney, UESF's endorsed candidate for District 6 Board of Supervisors election, that will be dispatched at noon at UN Plaza located at 355 McAllister St, San Francisco.
GOTV Option 2
SEIU Local 1021 – 350 Rhode Island, enter at Kansas Street
10 a.m. – 2 p.m.
Go to SEIU Local 1021 to do phone banking and/or door-to-door.