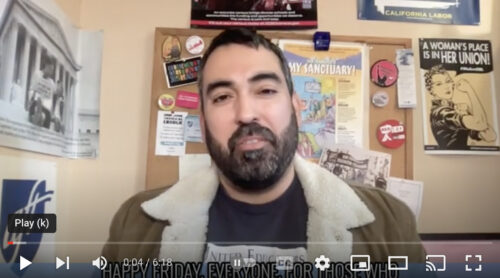 Happy Friday everyone. For those who celebrated the New Year a couple of weeks back, we hope your resolutions are holding strong. If you are celebrating the Lunar New Year this weekend, we wish you the best as you celebrate with your loved ones. Since the launch of our December 3rd Bargaining Campaign kickoff, UESF has started the New Year focused and committed on our plan to fight and win the schools our students deserve!
The cornerstone of our plan is strengthening our most important leadership body, the site and work area building committee. For the past year and a half, the Officers focused on reorganizing UESF to be able to carry out as many 1-to-1 conversations with members in order to identify leaders at every single site and work area. This reorganization resulted in half of our members participating in a bargaining survey in October. These past two weeks, staff and officers were once again out in the field testing our capacity to reach out to every site and work area. We are very excited to report that we now have UBCs, one UBR or a point of contact for 95% of school sites in Regions 1-5. For Region 6, the region representing our non-site based members, we now have 7 UBCs representing 300 members. In total, we have 500 site and work area leaders.
This is historical achievement that lays the foundation to move our over 6,000 members into action during our bargaining campaign. We are confident that our plan is working and by the results of our most recent outreach, we know your site and work area leaders are as well. In the next couple of weeks you will be asked to sign a "bargaining platform petition." The bargaining platform are our points of unity and we are asking that you join your union in that fighting for raises, better working conditions, students supports, fully staffed schools and pay and benefits protections.
As you listen to your site and work area leaders explain the platform, we want you to ask yourself: What does it mean to fight for a raise that allows new educators to stay in SF or para educators to finally have a living wage? How do we strengthen working conditions for the wide range of jobs our educators do in Special Ed, Early Ed., Nursing, Social Work, Counseling and Teachers on Special assignments? How do we create sustainable staffing models to offer student supports? How do we guarantee that HR feels the pressure to recruit and retain educators so that all our sites and work areas are fully staffed? And how do we guarantee that our members will never ever have to go through the level of disrespect our colleagues have felt due to the poorly planned and mismanaged transition to Empower?
If you agree with our platform and framing and are committed to fight to win our demands, sign it and show your support for your colleagues leading this important work. We will be presenting thousands of signatures at a major rally at the Board of Ed meeting on Tuesday, Feb. 21st. Please mark your calendars for Feb. 21st, the day we will speak on the sunshining of our proposal to bargain; this action will officially launch our request to bargain.
In addition to committing to the platform and also to taking action to guarantee that we win our demands, we also encourage every single member to use the platform as a way of building trust and solidarity among each other. If we are to make big wins in this contract, it requires unity in action. As you listen and learn from each other about the needs of the union, you will have ample opportunity to give your feedback and speak directly to the bargaining team. The first opportunity to do this will be on Thursday, February 9th. Be sure to save the date for UESF's first ever "Meet Your Bargaining Team" event on Thursday, February 9th from 4-6pm. The event, which will happen across all of the 6 regions at the same time, will have representatives from the officers, staff, bargaining team and "contract action team." There will be food and drinks offered as well. The program will allow for plenty of time to just meet and discuss the bargaining process.
SFUSD is going through a major crisis and we are all still recovering from a pandemic that continues to harm our communities. But as with every New Year, where we commit ourselves to new beginnings with a sense of hope and resiliency, UESF knows that this historic bargaining campaign will harness the amazing energy and passion of our members to offer a path forward for our students, families, the District and the whole city of San Francisco. Our students deserve the best public schools and your union is committed to fighting to achieve them. See you on Feb. 9th and Feb. 21st.