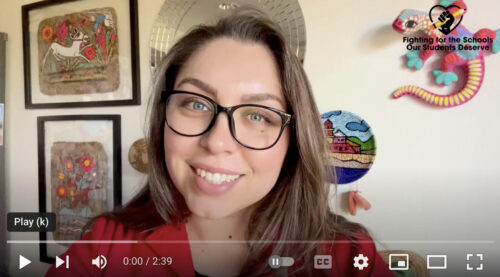 Today is International Workers Day, a day when workers worldwide celebrate the unity among us. Our labor and hard work contribute to thriving economies and societies across the globe, unfortunately benefiting only a select few. May 1st, revived by the immigrant rights movement, is a day to demand access to essential needs such as housing, healthcare, social services, quality public institutions, and the right to live a healthy and dignified life for all workers.
UESF is starting its week of informational pickets today. More than 50 schools will be organizing pickets throughout the week. To see the complete list of participating schools, visit uesf.org and join the picket lines to show your solidarity! 
Establishing the link between unity, solidarity, and organizing is crucial, as we are currently engaged in a significant bargaining campaign. Our student-centered proposals, committed bargaining team, and the extensive backing of our members will result in significant achievements that will benefit the students we serve.
A strong contract is crucial for stabilizing schools and rebuilding SFUSD's foundation. Our union presented an important "economic package" three weeks ago, but we have not received any response from the District yet. We are unsure if the District comprehends the significance of the pivotal moment we are facing.
The upcoming bargaining session is critical. If the District does not provide any meaningful proposals, UESF will create a plan for more escalated action. We are unifying all members and mobilizing our families, communities, and city-wide supporters for the expected challenges at the beginning of the next academic year, and how our proposals seek to address those challenges with solutions. We recommend that schools and worksites begin their UBC elections in May to ensure that our communication and organizational networks remain solid and reliable. Keep informed by reading our weekly emails and checking the regular bargaining updates. Together, we can secure a contract that meets the needs of our entire school community! Happy International Workers Day and thank you for the work you do to keep our union strong in this fight for the schools our students deserve.