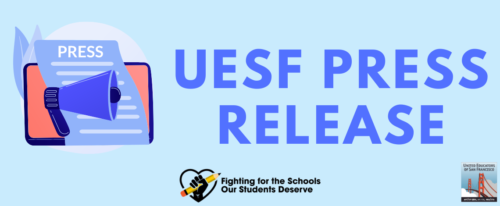 For Immediate Release: Jan. 12, 2023     Contact: Amanda Hart, ahart@uesf.org, 510-631-4437
New Report finds that SFUSD is Outspending Similar Districts by Nearly Twice as much on Administrative Costs
SAN FRANCISCO— A new report released by the San Francisco Budget and Legislative Analyst outlines excessive central office spending that has been happening at San Francisco Unified School District for years. The BLA report found that SFUSD spends about $70 million more in administrative costs than 12 similar California school districts.  
Excessive central office spending is one of many problems facing SFUSD, this is in addition to ongoing staffing shortages and the disastrous switch to a new payroll system that left many educators over the last year with missing or inaccurate paychecks. As UESF has stated for months, these crises are structural and rooted in poor management. The report exposes how this level of investment in SFUSD central office was costly in more ways than one. 
"Educators have been calling out the bloated central office management for years now, and we are grateful to Supervisor Hillary Ronen and Commissioner Matt Alexander for commissioning a report that can help steer us in the right direction," said Cassondra Curiel, President of UESF. "We look forward to seeing how SFUSD Management uses this report to help reorganize themselves and use that money to ensure we are meeting the needs of our students at a school site level." 
President Curiel also wants UESF members and the public to know, "we will remain vigilant in making sure that our budget is aligned with our student-centered values, and we are hopeful that this new Superintendent and school board can begin to do the work necessary to repair the systemic issues our District is facing."
The Budget and Legislative Analyst report will be discussed in detail at the Youth, Young Adult, and Families Committee hearing on Friday, January 13, at 10 am at City Hall in Legislative Chamber, Room 250. 
###