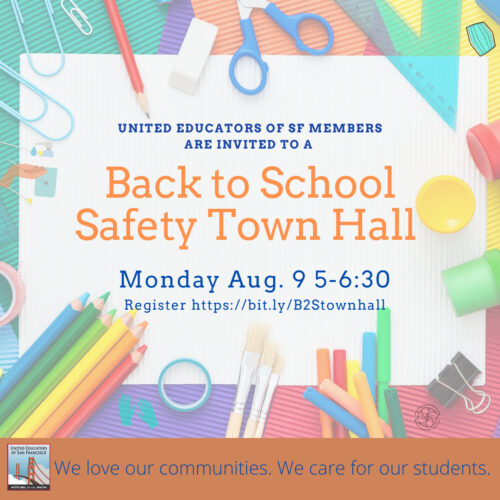 UESF members are invited to an emergency town hall Monday Aug. 9 from 5 to 6:30.
Register at bit.ly/B2Stownhall
United Educators of San Francisco, is starting the year off with the utmost respect for the amazing service and dedication all educators showed for our students and their families this past year. The COVID-19 pandemic caused unprecedented pain and suffering. In the face of that, we completely adapted our approach to education in order to guarantee the safety of and access to education for our students.
Now, we are returning to the classroom for in-person instruction in the midst of rising concern. The Delta variant surge is justifiably adding stress to an already intense time of year. In recent days the conditions have worsened considerably, prompting the need for an emergency town hall.
This next week, we will be setting up classrooms, greeting new colleagues and doing everything we need to prepare to welcome back our students and families. The leadership and staff at United Educators of San Francisco is here to support you and your school site as we carry out the work, grounded in our love for our communities and care for our students. We know that while we welcome back families, we must also be vigilant so that all the health and safety protocols agreed to by District management are followed.
The emergency town hall will include:
Information on the protocols still in place based on the Health and Safety Tentative Agreement that union of SFUSD signed with SFUSD in Feb. 2021
Info from the bargaining team on negotiations
Time for questions and answers
Resources and info for maintaining protocols and organizing on site