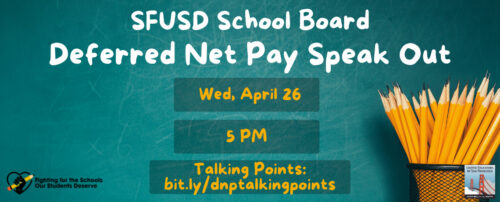 This week we met with the District to discuss and negotiate how to fix the issues that have arisen with the District's decision to implement deferred net payment (DNP). We have a small window to influence the School Board and District to take action and make it right!
Please take a minute to send a quick email to the Board and Management! We have made it super easy, just use this action network link to click and send. We want to generate as many emails as possible over the weekend.
Then we need to show up in person or over zoom to the Tuesday, April 26th school board meeting at 5 pm to give public comment. For folks joining by zoom you can use this talking points toolkit to join us and give public comment.