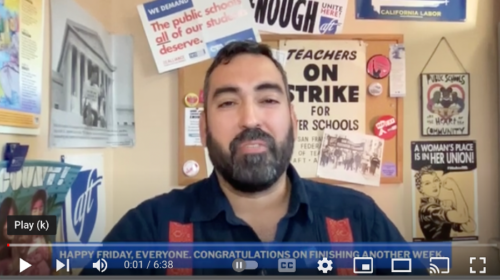 Beyond the Crisis of Empower
Happy Friday, everyone. Congratulations on finishing another week, and we hope you enjoy your long weekend. The month of October is always challenging for educators. The newness and jitters of the new school year wear off, and our systems and supports are tested. We now understand the many needs of our students and our families. Adding to this is the general crisis in education, where a recent national poll found that 54% of public schools are understaffed. This understaffing is affecting all areas of SFUSD, from our support staff to school sites to central office staff. 
On top of our profession's general challenges, we continue to deal with the collective trauma that Empower has caused. We want all our members to know that addressing the most egregious pay and benefits issues continues to be our absolute priority. Aside from responding to or addressing every case that gets forwarded to us, we are in regular communication with the Superintendent, SFUSD staff, and Board of Education Commissioners to update them on the patterns of the errors and to pressure them into offering immediate solutions, even if they are temporary. This is why pay clinics are being offered monthly after each pay period. It is why members who receive no pay are getting immediate off-cycle checks, and the number of egregious cases has dropped significantly. But we understand there is much more work to do and that every month that passes and the issues continue to be unresolved is unacceptable. 
Ultimately, our members must know that issues with "Empower" are not with the product, the program, or the software; the District won't "fix" Empower. It has to do with workflows, cross-team collaboration, staffing, and personnel capacity. To produce an accurate check, multiple departments and personnel teams need to collaborate for problems to be resolved. These mid-term and long-term problems should have been planned for but were not. We believe the Superintendent and his closest collaborators understand the scope of the problem and will ultimately build an organization capable of implementing the requirements of the Empower system. However, unions don't function on wishful thinking. That is why we continue to pursue the legal route, which is the medium and long-term remedy. Over 180 grievances have been filed, and we have presented the mounting evidence to our lawyers, who continue to push forward with filing charges with the CA Labor commission. We will have more updates at our upcoming action at the October 25th Board of Education meeting, where we will rally against the "Nightmare on Empower St." Details of this action can be found below in this week's email.
I started with the issues that are front and center for our members. These are the challenges educators in SF are facing, and we, your union leadership, want you to know that we are addressing these challenges daily and relentlessly. 
The challenge for your union leadership is different. Our major challenge is how to meet members' immediate needs while chartering and organizing a way out of the multiple crises so that we can fight and win the schools our students and families deserve. 
We won a significant pay increase during the recent bargaining sessions for the reopener in our current contract. The 6% increase in pay to all our certificated and classified members, which your fellow colleagues negotiated, represents the largest single-year pay increase in the last 12 years. Previously, we got close to this amount thanks to a ballot measure that increased local school funding. The swiftness of this major victory is a testament to the power and influence you hold and the acknowledgment by the District and the Board of Education that without educators, we cannot win the schools students and families deserve. 
This power and influence must also be used in the upcoming elections so that strong union-backed candidates, candidates that fight for the interest of educators, students, families, and the broad working class of San Francisco, win. So, sign up for the many UESF COPE events planned in October and November. Ballots drop on October 10th, and your union vote is key to winning political allies who will join us in the coming struggles. 
For our next step in bargaining, we are preparing for the important launch of the contract campaign on Saturday, December 3rd. This event will prepare dozens of new leaders to direct the most democratic and transparent bargaining process in UESF's history. We currently have over 2,500 entries for our bargaining survey. This is one of our highest levels of survey participation in recent memory. And while that is an important numerical fact, the most important is that these entries were produced thanks to conversations and relationships built among members. The link to the survey was not sent via our email or text lists. Members had to engage with each other. The nurtured relationships built from this most recent "structure test," a test meant to show how powerful we are, will be the keystone to achieving big wins in the coming months. 
In closing, the crisis we face is severe and complex, and your union leadership is working hard every day to address it all. At the same time, we are building up the power necessary for this organization to resolve the immediate crises and offer an alternative. The leaders emerging at your school sites and work areas also hold us accountable and play a key role in this alternative. This is why, now more than ever, you must continue to nurture those relationships with your colleagues, support and strengthen your leaders and look to build coalitions beyond your grade level, beyond your school site and work area, and beyond your union because fighting for and winning the public schools San Francisco deserves will need the effort and commitment of all of us. 
Get some rest and enjoy your break with friends, family, and loved ones.