Feb 8 Press Release
UESF Members Ratify One-Year Contract Extension 
SAN FRANCISCO— Members of the United Educators of San Francisco ratified a one-year contract extension that includes two one-time bonuses to all members, pay increases for substitutes and a one-time bonus to staff at "high potential" schools, the union announced today.
"We're glad to have this one-year contract extension, giving educators much-needed funds as a start to countering stagnant wages. Looming on the horizon, though, are budget cuts that could include layoffs," said UESF President Cassondra Curiel. "Educators, parents and other community members are doing everything possible to get the district to recognize that layoffs are unnecessary—the district has a teacher shortage;  there's an anticipated infusion of state education funding, including money for community schools; and the first staffing cuts should come from central office staff not working directly with students and schools."
Under the contract extension:
All UESF members will receive two one-time bonuses, totaling $4,000.
All substitute teachers will receive daily rate wage increases of $50 or $60, depending on their experience.
Staff at "high potential" hard-to-staff schools will receive a one-time bonus of $3,000.
Advanced Placement teachers will receive a $3,000 stipend but will lose a planning period.
Certificated staff and classified (paraeducators) will be able to negotiate wage hikes in contract reopener talks during the summer of 2022.
"UESF members have shown incredible resiliency and steadfastness at a time when they hear about threatened layoffs and face continuing challenges because of the pandemic. It's been a difficult time for educators, and this contract extension gives them some relief, stability and the opportunity in a few months to renegotiate wages so they can afford to live in the expensive Bay Area," Curiel said.
Ratification Instructions
The link to vote on the One Year Contract Extension Tentative Agreement will be live for the next five days. UESF members will have until 7 pm on Monday, Feb 7, to vote. You can review the bargaining report, flyer summary, and full TA text to help inform your vote. 
At 7 pm on Wednesday, Feb 2, we sent an email with the ballot link out to the personal email on file with the union to all members. If you did not have a personal email on file with us, we emailed your SFUSD email. If that is you, please use this form to update your personal email for use in future votes. 
Once the vote closes, we will review the results and release a statement by 12 pm Tuesday, Feb 8. The School Board will also need to approve the agreement at their Feb 8 meeting. 
Please note that you need to share your SFUSD employee ID number and SFUSD email to cast your vote. This information will not be shared publicly or with the District. This information is for internal use only.  
If you are a member and did not receive a ballot link, please email ask-uesf@uesf.org, and we will send you the link. 
If you would like to vote in person, you can come to the UESF office at 2310 Mason St on the 2nd floor to receive a paper ballot. In-person voting is only available on weekdays from 9 am – 5 pm while the vote is live.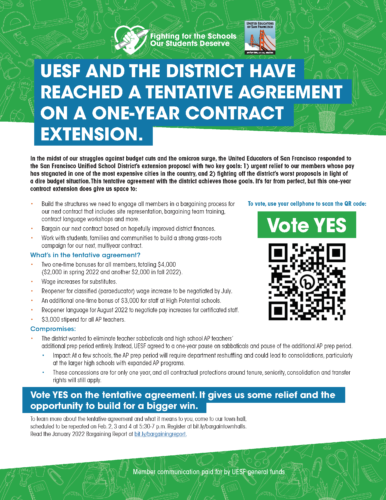 United Educators of San Francisco and the San Francisco United School District reached a tentative agreement late Friday evening on a limited successor contract to the one that expired in 2020. UESF received the final version today at 5pm and has made it available for members to read the full text HERE. If you would like a more detailed history of how we arrived at this point, please read the extensive bargaining report HERE.
In addition to an immediate wage increase for substitute educators, it includes a reopener clause to bargain pay increases for both certificated and classified staff, two one-time compensation payments to all members, a stipend for all AP teachers and an additional stipend for all educators working in hard to staff schools. Our union conceded to a pause in a provision for additional AP prep periods as well as sabbaticals for a period of one year in response to the district's proposal to eliminate sabbaticals and AP preps.
$2,000 on or before June 30, 2022 to all certificated and classified unit members, including Prop A subs

$2,000 on or before November 30, 2022 to all certificated and classified unit members, including Prop A subs

Substitute teacher daily rate increase: $50 for Tier 1 and $60 for Tier 2

Substitute paraeducator hourly rate increase: $2 for Step 1 and $3 Step 2

$3,000 additional for High Potential School stipend on or before June 30, 2022

$3,000 stipend for all AP teachers during the 2022-23 school year

Sabbaticals are phased in for the 2023-2024 school year
As SFUSD management prepares to layoff dedicated educators in the midst of a teacher shortage while maintaining a bloated upper management far from the classroom, United Educators of San Francisco is well aware that this agreement is movement in the right direction but it is not sufficient. Governor Newsom has announced a budget revise that would bring much needed funds directly into San Francisco Unified School District, and other California districts, in the fall of 2022. The students, educators and school communities of San Francisco have done incredible work in the midst of a disastrous pandemic. The one year contract extension makes sure members get a measure of immediate relief while we prepare for the struggle to make sure these funds are used to meet the needs of our students, educators and schools communities directly.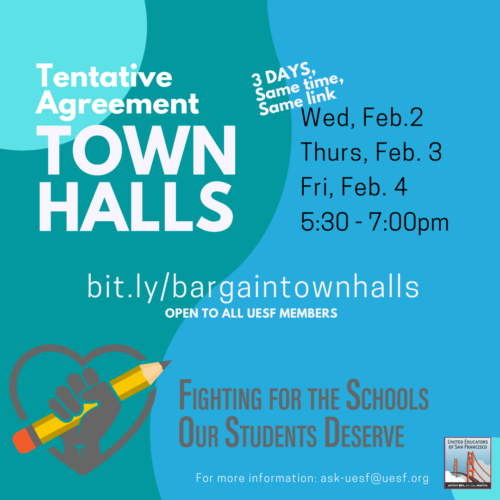 Now that a tentative agreement has been reached, the town hall meetings will pivot to focus on a discussion of the tentative agreement.  In an effort to provide as much transparency and context for the status of bargaining overall, we earlier shared a very detailed Jan 2022 Bargaining Report to Members by clicking HERE that is still very relevant to the discussions. 
Wed. Feb. 2 5:30 -7pm
Thurs. Feb. 3 5:30-7pm
Fri. Feb. 4 5:30-7pm