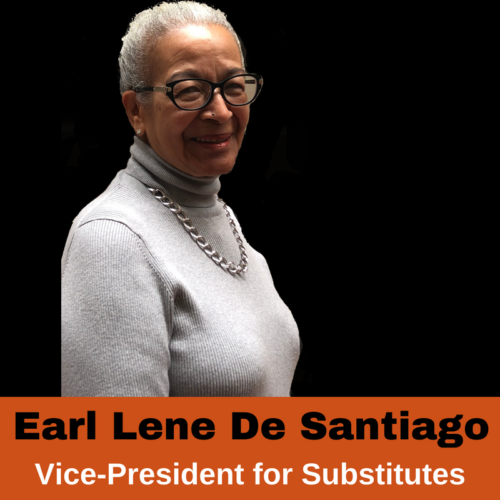 Substitute Standing Committee (2017-2018)
RESULTS OF THE SUBSTITUTE STANDING COMMITTEE ELECTIONS
Elizabeth Conley
Chair
Dennis Fox
Vice-Chair
Artemese Kelly
Secretary
Assembly Representatives:
Mike Belleci
Dan Brady
Simone Caddopi
Tina Choy
Byron Done
David Ferguson
Desmond Jeffries
Alan Lovaasen
Daniel Markarian
Chad O'Connor
Nancy Petercupo
Linda Festa Plack
Mark Podhorecki
Erwin Steinbeisser
Ron Trapp
Jess Zepeda
Sub Call in Number:  (415) 345-0064
This page is a resource for substitute teachers in the San Francisco Unified School district. It will be updated periodically, as issues affecting substitutes come up. Important links are also available below.
Substitute Hotline (956-8373)
UESF has set up a Substitute Hotline for folks to call if they have any questions or concerns. The hours are Tuesdays, Wednesdays, and Fridays: 8:00 a.m. to 4:00 p.m.
You may also email UESF Vice-President for Substitutes
Liz Conley
, if you have any questions.
Monthly Meetings
Below is the list of important monthly meetings. Please check the
UESF Calendar
for changes in dates and locations.
UESF Executive Board Meeting
(First Wednesday, every month)
4:00 p.m. @ Rosa Parks ES
(1501 O'Farrell St.)
UESF Assembly Meeting
(Third Wednesday, every month)
4:00 p.m. @ Rosa Parks ES
(1501 O'Farrell St.)
Substitute Division Meeting
(Fourth Wednesday, every month)
4:00 p.m. @ Rosa Parks ES
(1501 O'Farrell St.)
UESF Substitute Executive Board Representatives
Executive Board
Sherry Linker
Anna Graciela Slavicek
Additional information for substitutes:
Substitute Assignment Tips
It is worthwhile to check the FAQ (Frequently Asked Questions) the district says it has installed on its website (SFUSD.edu) to check whether your common sense understanding matches their processes.  Did you know that "No Records Found" and "No Work Available" means that the lines are busy?  The district says their off-the-shelf program cannot make the change to something like "Busy, try again". When the above messages are received the phone callers have to hang up and call again.  On-line users have to refresh their cache or press the search button.
Working Families Tax Credit
Substitute teachers and paraprofessionals are among those who may qualify for the City of San Francisco Working Families Tax Credit. To qualify for the City funds you must also file for the federal Earned Income Tax Credit (EITC) and have at least one dependent child. More information is available at
http://www.workingfamiliescredit.org/
.
Sub links: