September 18 Bargaining Report
September 18 Bargaining Update
August 28 Bargaining Report
August 28 Bargaining Update
August 4 Bargaining Report
July 25 Bargaining Report
July 25 Bargaining Update
---
July 10 Bargaining Report
---
July 10 Bargaining Update
---
May 24 Bargaining Report
---
May 24 Bargaining Update
May 22 Bargaining Report
---
May 22 Bargaining Update
---
May 17 Bargaining Report
---
May 17 Bargaining Update
---
May 15 Bargaining Report
---
May 15 Bargaining Update
---
May 8 Bargaining Report
---
May 8 Bargaining Update
---
May 1 Bargaining Report
---
May 1 Bargaining Update
---
April 24 Bargaining Report
---
April 24 Bargaining Update
---
April 17 Bargaining Report
---
April 17 Bargaining Update
---
April 10 Bargaining Report
---
April 10 Bargaining Update
---
March 20 Bargaining Report
---
March 20 Bargaining Update
---
March 13 Bargaining Report
---
March 13 Bargaining Update
---
Feb 21 Action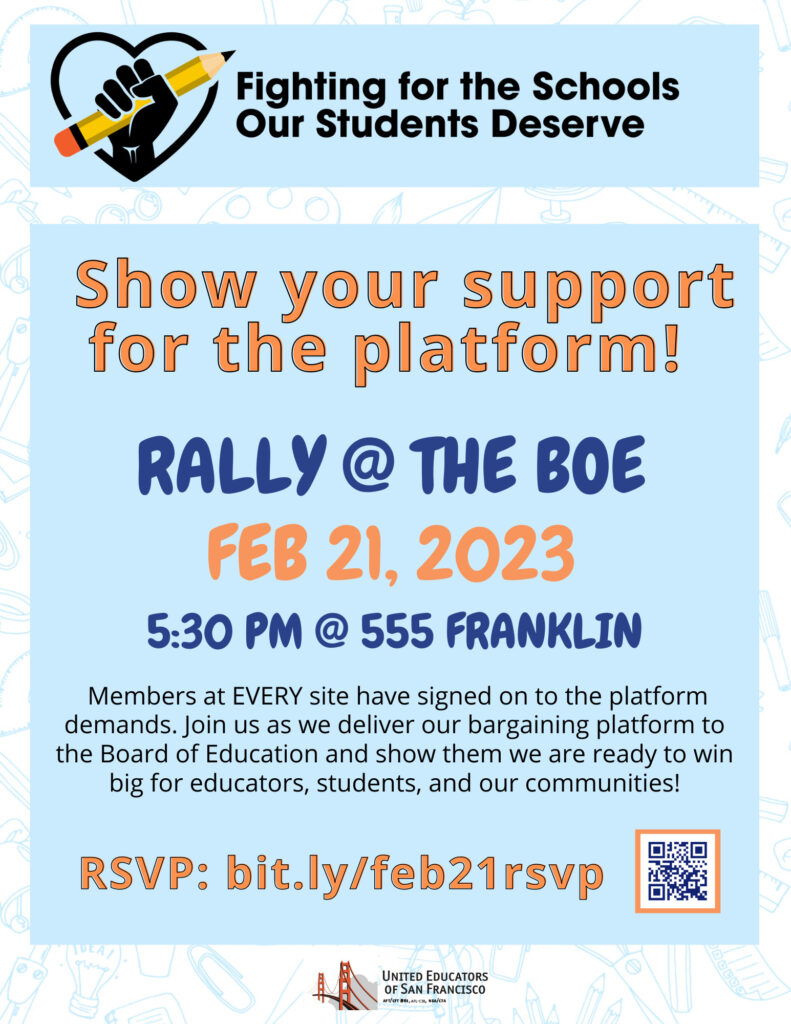 We need raises, improved working conditions, fully staffed schools, student supports, and protection from poor management decisions! Three thousand three hundred members completed the bargaining survey. We've built the biggest bargaining team in UESF's history with every grade level and role on deck. Members at EVERY site have signed on to the platform demands.
Let's deliver the platform signatures to the Board of Education and show them we are ready to win big for educators, students, and our communities!
---
UESF 2023 Bargaining Platform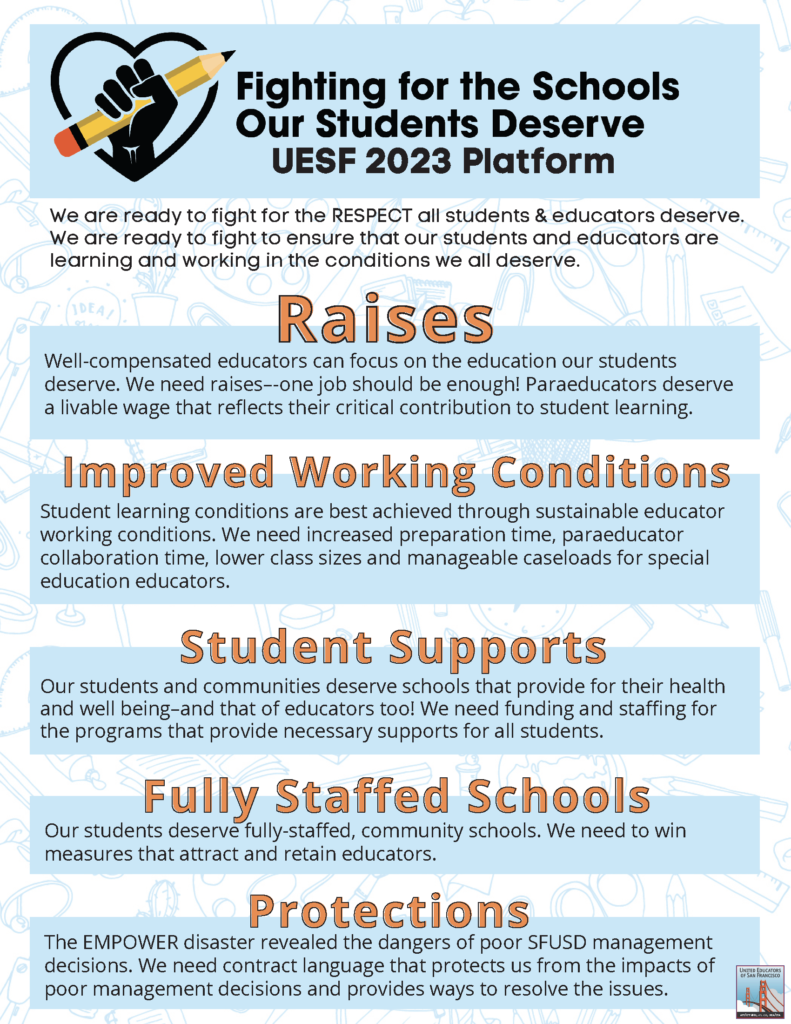 ---
Contract Campaign Kickoff
Despite rainy weather, over 200 United Educators of San Francisco members gathered this past Saturday, Dec. 3rd at Burton High School to kick off the "Fighting for the Schools Our Students Deserve" campaign. The Yau Kung Moon Troupe, including former students from Burton, Washington, Galileo, Lincoln and Lowell, set the tone. Their energizing and beautiful performance properly opened the day. The opening session reviewed the general outcomes of the bargaining survey completed by 3300 members:
UESF members' top 5 bargaining (most important) issues address staff shortages and student supports: salary, retirement/pension, additional onsite services, class size limits and duty-free prep time.
Special educators need manageable workloads to focus on student needs
Paras deserve a Living Wage that reflects their contribution to student learning conditions
Support service educators need funding and supports to better meet our students' needs
Participants then broke into 11 small groups to discuss what demands we should be fighting for, what is winnable this year and what we want to win in the future as well as how to engage members and foster solidarity amongst educators. Each morning session reported out at the end of the day as well as created a report for the bargaining team to review.
Following lunch, members participated in the following workshops
A site plan to win
Play the Game to Change the Game: Planning for the Future of UESF COPE (Committee on Political Education)
Paraeducators: Know your rights so we can fight
Certificated Educators: Know your rights so we can fight
From Empower Disaster to Contract Win
What does a contract campaign looks like?
Creating a message that resonates with the community
We can't do this alone: Community solidarity and coalition building
and a film showing of "When We Fight."
Check out this great collection of photos from the kickoff. It was our first opportunity since 2020 to come together in the same room, and the experience was powerful! The UESF Big Bargaining Team will be working diligently to turn the survey outcomes and the work of the kickoff into a "Fighting for the Schools Our Students Deserve" platform. We deeply appreciate all the work of the bargaining team, UESF staff, and member volunteers that made the day so smooth. A special shoutout to the Burton High School educators for the use of their site!